Update Your PC Drivers!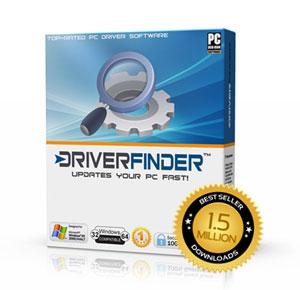 ---
Frustrated with numerous PC issues, device connectivity issues and other annoying problems? That's not really surprising; many PC problems are due to missing, corrupt, mismatched or outdated device drivers.
To solve most PC problems today, you usually need to download and update your computer's drivers. However, not just any driver will do. You need drivers that match your computer's brand, model and operating system perfectly.
The DriverFinder driver database is sourced 24/7/365 from thousands of various device manufacturers worldwide. Together with our Precision PC Scanning Technology, you are guaranteed to find the most up-to-date, and most applicable drivers for your PC in just a few clicks.
---
How Does DriverFinder Work?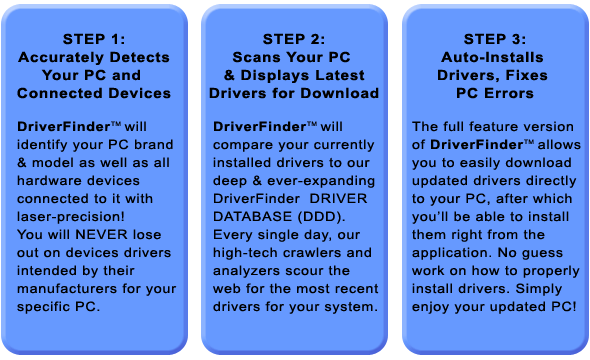 ---
How To Update PC Drivers:
---
Updating your PC is fast, safe and easy! Simply follow these steps and DriverFinder
will find the EXACT drivers for your PC:
1. Click Here to download DriverFinder.
2. Wait for the download to complete (if you're using Edge).
3. Click Save File (if you're using Chrome or FireFox).
4. Double-click dfinstall.exe to install.
5. Register for the full feature version.
6. Click Start Scan in DriverFinder to check for new drivers.
7. Download and install the latest Windows drivers recommended!
Now wasn't that easy :) DriverFinder takes the work out of manually fixing your devices!
---
Supported Devices:
---
Bluetooth Drivers

Keyboard & Mouse Drivers

Network Drivers

Printer Drivers

Phone Drivers

Webcam Drivers
And More! DriverFinder is continuously updated 24/7/365 and has over 1,000,000 specific drivers to match your PC!
---
DriverFinder = Security
---
DriverFinder is 100% safe and secure. In fact, we deliberately subject ourselves to various anti-virus and anti-spyware tests! Just take a look at the awards and seals we've received from various online sites that have put DriverFinder to the test.
DriverFinder also uses exact match technology ensuring that your PC will be updated correctly
---
---
Driver Updates
DriverFinder is an advanced driver scanning, updating and downloading utility for Windows-based PCs. By downloading, you agree to have read and accepted the
License Agreement
and
Privacy Policy
. Individual drivers may be available freely on manufacturer websites. Activate the full version of DriverFinder for a one-time low fee of only USD 29.95 for a year.
Safe & Secure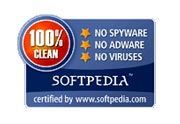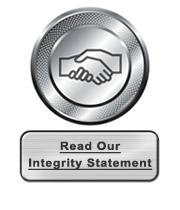 PC Requirements
Windows 11,
Windows 10,
Windows 8,
Windows 7,
Vista & Windows XP
300 MHz Pentium or higher CPU
256 MB RAM
16 MB hard drive space
Space for driver downloads and backups
800x600 true color or better resolution
Internet connection
Company Info